SALTBOX Studios, RDU 98.5FM and Dr Jason Long ( AVON Synths ) will offer 10 synthesis workshops detailing his musical creativity and learnings through Synthesis. The course will enable participants to further understand how synthesizers are constructed, learn the fundamental basics of how to control a synthesizer, how to use effects with a synthesizer and then be able to apply their learnings to their own artistic works. 
The series of 10 workshops will be delivered on the first Thursday of every month from June 2022 until May 2023 at the new SALTBOX Studios. Workshops will not run during December 2022 and January 2023. 
Have you heard acronyms like LFO, VCA, HPF, LPF? How about Envelopes or Oscillators? Ever wondered what they mean, what do they do or how do they relate to music? Then this programme is for you! 
Apply below (please note the numbers for each class have been limited to 12)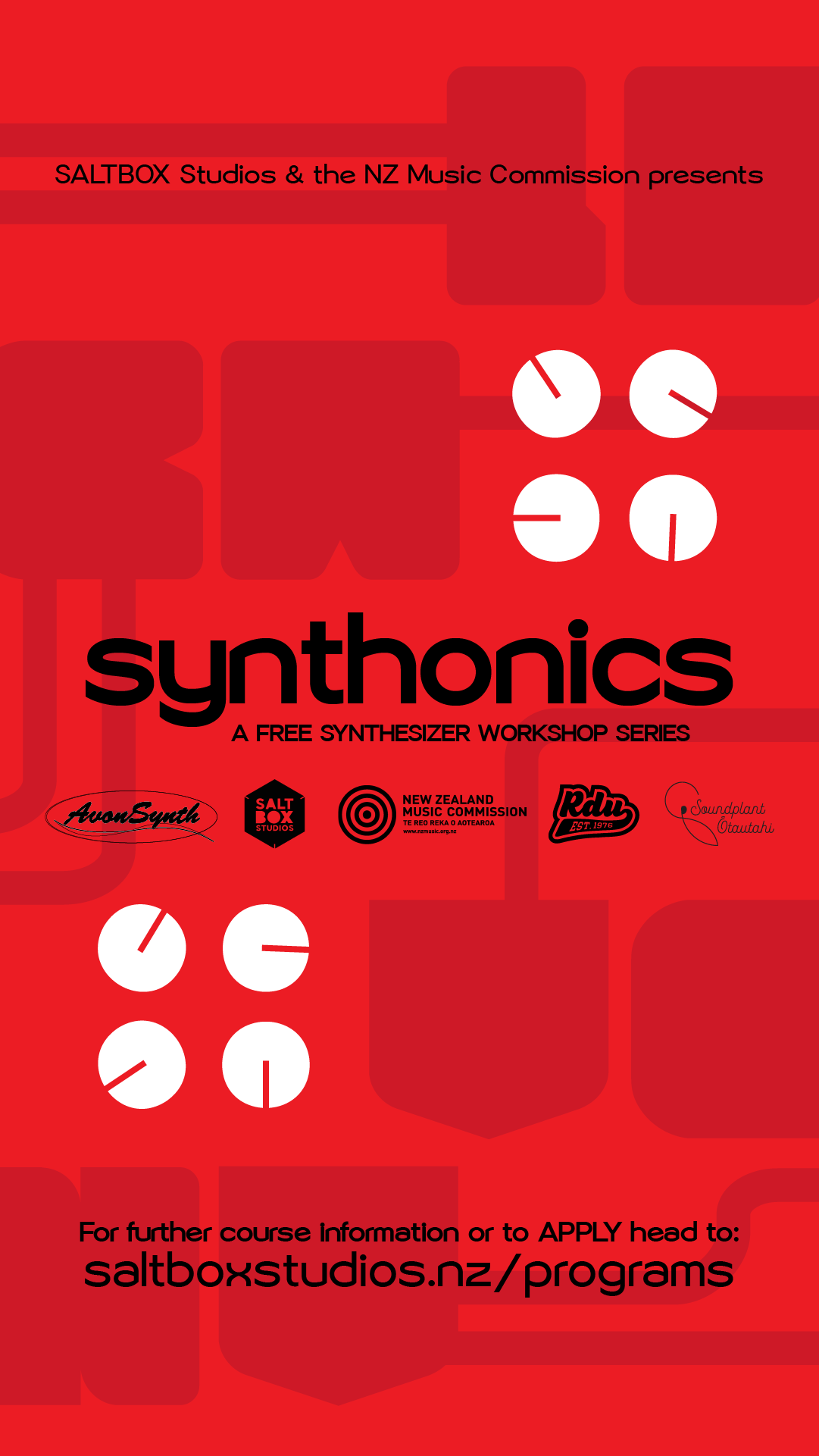 The 10 workshops are detailed below:
Workshop 1 
Introduction to Synthesis Styles 
This workshop's goal is to introduce the participants to as many different types of synthesis as possible, helping them to understand the purpose and implementation of a number of different styles, and providing hands-on experience with them in person. Subtractive, Additive, Frequency modulation (FM), Granular, Wavetable, and Vector synthesis will all be showcased and discussed, and participants will learn how each method creates sound, how to make best use of it, and most importantly, how it sounds and what musical context would call for which style of synthesis. 
Workshop 2 
Basic Subtractive Synthesis Workflows 
Subtractive Synthesis is the most common and widely used style of synthesis, used in practically every musical style. Workshop participants will learn about the pioneers of this type of synthesis such as Moog, Buchla, and Smith, as well as their different approaches to the technique. Students will get hands-on experience with analogue and digital hardware subtractive synthesizers while learning about how they make sound with oscillators, filters, VCAs, and other elements. 
Workshop 3 
Modulation (LFOs, Envelopes) 
This workshop focuses on the key element of many styles of synthesis – Modulation, where the parameter output of one module controls a characteristic of another. Participants will learn about Low Frequency Oscillators (LFOs), Envelopes (such as ADSR), and other sources of modulation, and how synthesizers use these to shape sounds with practically infinite variation. Students will use analogue hardware synthesizers to create their own sounds using this technique. 
Workshop 4 
Controlling and Connecting Hardware (CV / Gate / MIDI) 
How can we connect up multiple synthesizers to design monstrous sounds, or perform electronic music live? Using CV and MIDI of course! Participants of this workshop will gain a working understanding of the CV and Gate connections present on most analogue synth gear, and how to use them to make creative and unique hybrid sounds. MIDI will also be used to create musical sequences and connect gear together. 
Workshop 5 
Modular Synthesizer Basics 
This workshop is an introduction to analogue modular synthesizers for those who have never used one before. Participants will learn about modular concepts while receiving hands-on instruction on how to make their own sounds with modular synths. By getting stuck in with patch cable wrangling and knob twisting, by the end of this session you'll understand why modular synthesizers are so attractive to both studio and live musicians the world over! 
Workshop 6 
Sequencers 
Whether you're making a short bass-line or an entire electronic symphony, sequencers are key to putting it all together. Participants of this workshop will learn the strengths of hardware MIDI sequencers, PC-based sequencers, and analogue sequencers throughout the creative process. While programming their own melodies, chord progressions, and bass-lines, participants will collaborate and have fun making music on their way to mastering the art of sequencing. 
Workshop 7 
Sampling Synths 
Some of the most appreciated and identifiable sounds of electronic music have come from using samplers to manipulate synthesized sound. In this workshop, participants learn the basics of sampling, from recording and transposed playback, to time-stretching and sample manipulation. While manipulating synthesized sounds using both hardware and software samplers, participants will gain an insight as to how several iconic sounds of electronic music were created, while enjoying the chance to make them ourselves. 
Workshop 8 
Modular Synthesizer Workflows 
This workshop is for those who already have a basic understanding of the concepts of modular synthesizers and would like to increase their knowledge of modulation and making new sounds. Moving beyond the basic 'VCO-VCF-VCA' workflow, this workshop introduces more eclectic voltage controlled modules such as Sample & Hold (S&H) for quasi-random effects, VC-Crossfade, VC-LFOs and VC-ADSRs. Take your modular sound-making to the next level! 
Workshop 9 
Enhancing Synth sounds with Effects 
Synthesizers are rarely used in total isolation. In order to place a synth sound well in the mix, position it in a virtual room, or just to mess it up in interesting and fun ways, there are a large variety of different effects used. This workshop focuses on taking pre-made synthesizer sounds and samples, and processing them for everything from subtle enhancement, to weird and wacky mayhem, even to complete destruction! 
Workshop 10 
Modular Synthesizer Advanced Sound Design 
For those who already have some modular synthesizer knowledge, this workshop explores the wonders of advanced modular synthesizer techniques such as audio-rate FM, AM, FC, and Ring modulation, CV feedback, wave-shaping and distortion, and polyphony! Using a full, locally made analogue AvonSynth modular synthesizer, participants will experiment with making all sorts of traditional, contemporary, and experimental synth sounds. Recordings of the sounds will be taken, and sent out for participants to use in their own productions after the session. 
FAQ's:
Who is facilitating this workshop? 
SALTBOX Studios, RDU 98.5FM, Dr Jason Long ( AVON Synths ) and the New Zealand Music Commission are all facilitators in this programme. 
What happens once I have applied?  
You will be sent confirmation via email confirming your attendance. 
Applicants will be asked to participate in the wider Soundplant assessment. This means, completing surveys and answering questions about your experience as a musician in the Ōtuatahi music industry. Whether you are new or experienced, our goal is to learn about you as a musician, so we can collectively improve outcomes for your music and performance in Ōtautahi. 
When is this happening?
Workshops will be run on the first Thursday of each month from June 2022 until May 2023. They will be delivered at SALTBOX Studios, 270 St Asaph Street 6pm until 8pm.
How do I be part of this ? 
You must apply to be part of the programme. You cannot TURN UP on the day. 
There is a limit on how many places per workshop that are on offer.